Grey Goose Brings The French Riviera To The Middle of Toronto
There are plenty of beautiful and amazing things to experience in France, especially along the French Riviera. The food, the atmosphere, the freshness of ingredients with the mindset of quality over arching all aspects of life there.
Grey Goose wanted to bring that experience to the middle of Toronto. They decided to take over the Campbell House, a central spot with lots of traffic around it but heritage fills the property to the brim. Even though cars filled the east and south side of the building, you couldn't even tell. We were so immersed into the location and the small details we were around it, we forgot about the annoyances of city life and focused on the French-styled experience that surrounded us.
Grey Goose took over the space to create a Marché, filled with different callbacks to French living throughout the whole area.
When we checked in, we were welcomed with a picnic basket with two colour-blocking blue and white glasses, very modern looking. Then we went around to the different stations to explore a local tie in to French accents.
There was a whole bread section, Grey Goose bar, macaroons, and many more all working with local companies to put this together.
Then we sat down on a very long banquet table, met our fantastic and interesting neighbours, excited for the full lunch experience that was about to happen.
We were even greeted in front of us with a newly designed bottle of the Grey Goose Riviera Limited Edition (pictured below).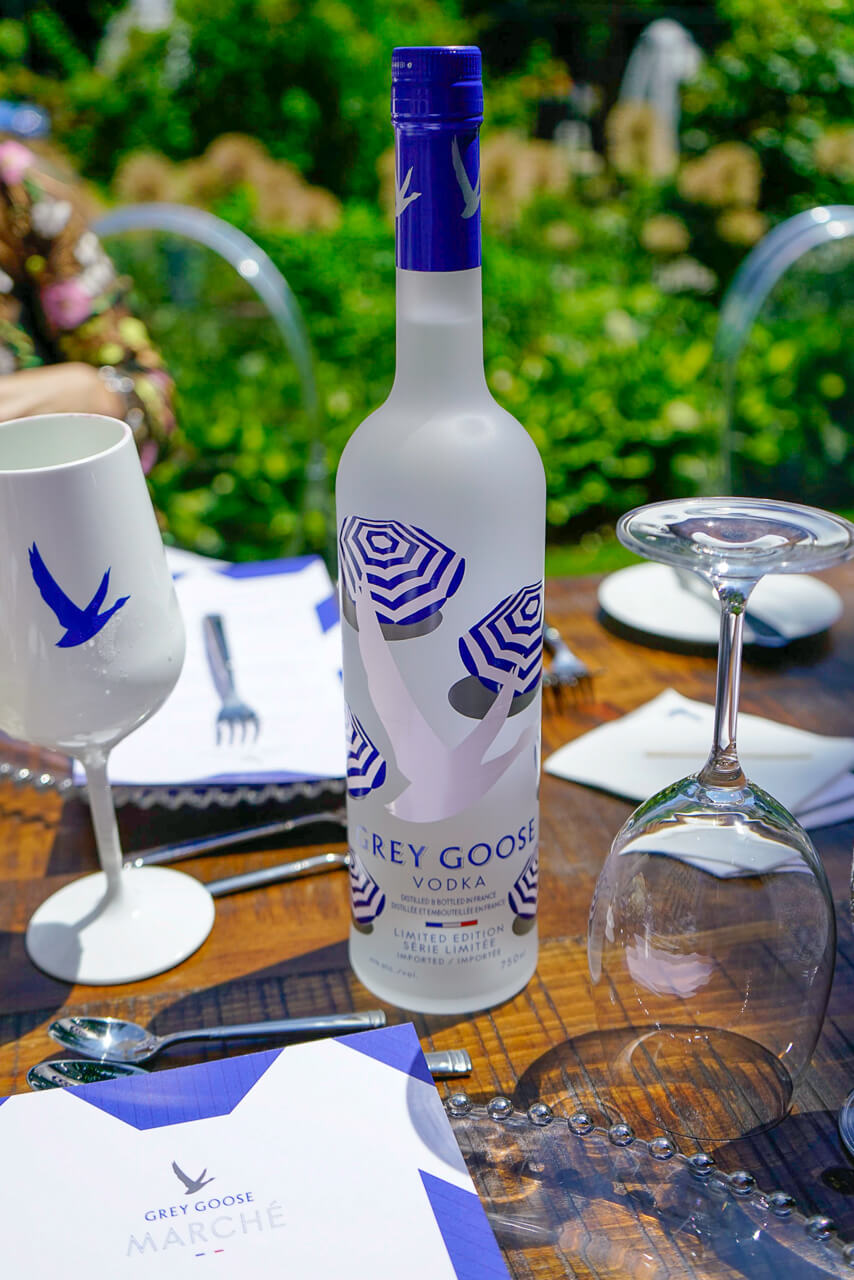 Each meal was paired with a different tailored Grey Goose cocktail, but the meal had a French twist, but was not just inspired by French cuisine, it was made entirely from a French chef that Grey Goose flew in for this event, we will get to behind this beautiful food experience in a second.
This isn't any French chef.
This was executive chef of the Michelin Star, Les Bacchanales restaurant in Vence, Paris. The humble professional, Christophe Dufau.
To make the experience more grandiose, he only sourced ingredients locally from Toronto, making each dish give that added touch, but adding a touch of Ontario's finest to each dish.
The tie-in between the culinary experience and the premium-distilled vodka that Grey Goose has to offer becomes clear when you are talking about the origin of ingredients.
When you start with good ingredients as a foundation, the result can be simple, yet extremely amplified. The ingredients  can be fresh and end up being rich in flavour, brought out fully by a skilled technician.
That goes with the start of any good premium spirit, if the main ingredients are off with the product, it can almost be described as a cleaning product in some cases. With Grey Goose having two main ingredients, it gives them the opportunity for them to focus in on those two ingredients, simplify things, source best ingredients and expand from there to a more focused product, giving you that quality through its taste. It's something you could taste throughout the whole lunch experience.
The lunch was a great way to spend an afternoon and what an absolute treat and rarity to have Michelin star meals in Toronto.
The Bottom Line
I have always loved long, banquet lunches.
The energy of the people on both sides. Sharing a meal and breaking bread with interesting people, saying à votre santé to each other across and beside. With the outdoor garden style party, I felt like it was more European than Canadian. The small details all summing up to a terrific summer party, all dressed up in blue and white, looking forward to the next conversation I was going to have, the next Grey Goose cocktail and next ingredients that would be highlighted. Thank you for having us, Grey Goose. We really enjoyed our time.
For more information about the Grey Goose Riviera Limited Edition be sure to visit your local liquor and spirits store and learn more about Grey Goose here.
---
---
---