Tiffany & Co. Marks 10 Year Anniversary With A Beautiful Upgrade To Their Flagship Store In Vancouver
Happy 10 year anniversary in Vancouver, Tiffany & Co.!
To celebrate, Tiffany & Co. has opened its doors to its newly renovated flagship store on Burrard Street in the heart of the retail district in Vancouver. The store has expanded to two floors with beautiful winding marble staircases on each side as you come in through the tall ceilinged entrance. How nice.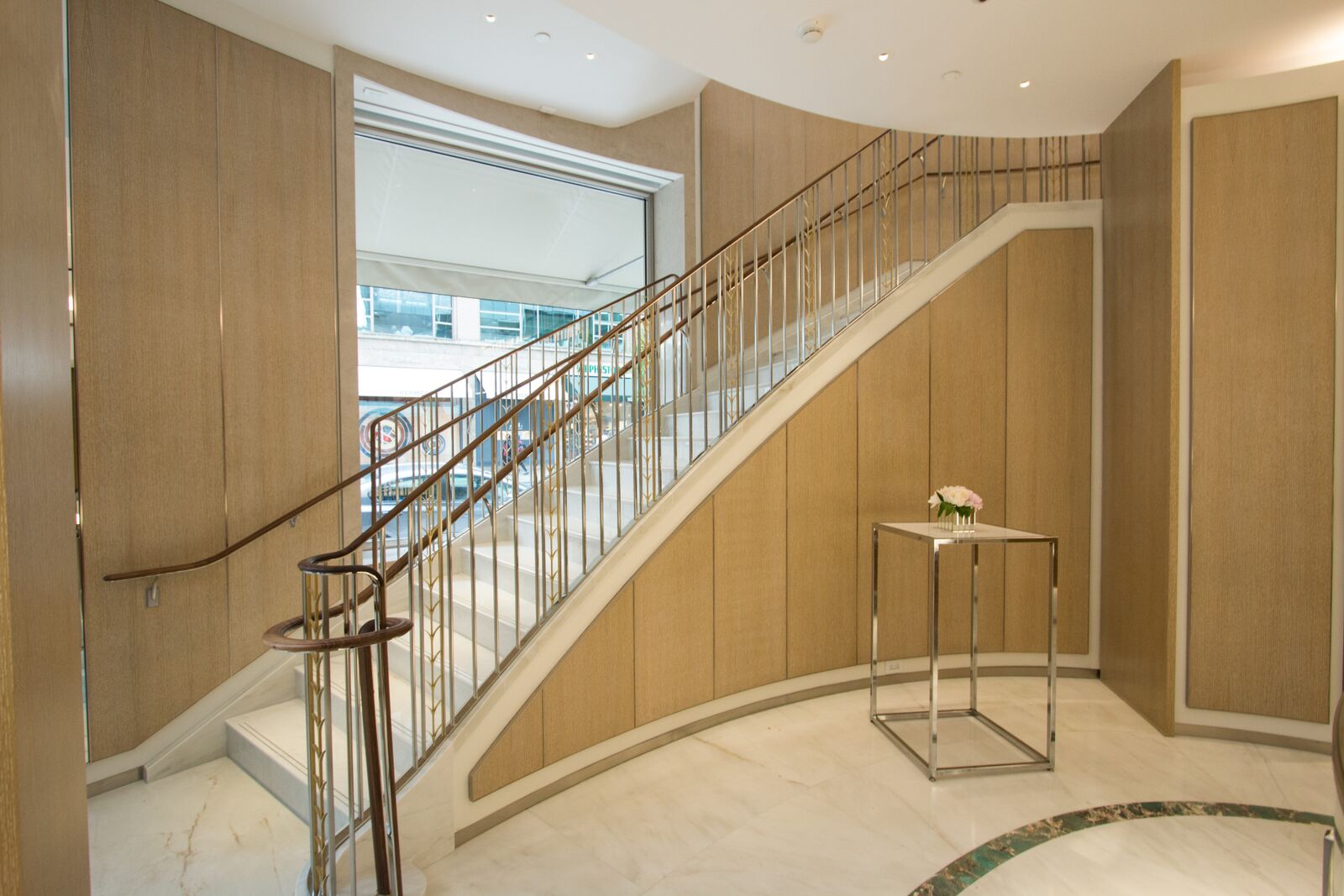 You can feel like the newly renovated flagship store had the customer experience as a top priority, after all, these meetings at Tiffany & Co. could be celebrating the start of a monumental moment in your life.
So, with such a life-changing occasion in mind, they have made the shopping experience more exclusive and more private. They have included private rooms on the main and second floor, which are perfect for a small group of loved ones to share in your moment together.
The Burrard Street store is a great indication of the future of the Tiffany & Co. in Canada, with a strong attention to detail and customer experience mixed with stunning, textured building materials to enhance that experience, imported from different countries.
The addition of the second floor explodes the square footage to nearly triple its previous size, pushing it up to 9,762 square feet. This gives customers, staff and jewellery pieces plenty of breathing room.
Speaking of which, the gleaming jewellery pieces displayed are ones from many worldly creatives. Colourful and conversation provoking collections from celebrated designers like Paloma Picasso, Elsa Peretti, and Jean Schlumberger fill the showroom with stunning pieces.
To celebrate Canada's 150th Birthday, Tiffany & Co. has even put together a special charm to celebrate the landmark birthday. See it below.
The Bottom Line
With this iconic brand standing the test of time and constantly improving their collections and service has really put the brand to the test. But, it's succeeded in such a competitive landscape. It's amazing how over so many years, a brand can still provoke such an emotion after loved ones see Tiffany's iconic colour on their boxes. The store is a sign of things to come and we hope they expand the same level of detail toward their other Canadian stores and touchpoints. The collections are not only displayed beautifully, but the pieces are beautiful on any display, neckline or wrist. Whether it's a bridal gift, something for a special occasion or something small to treat yourself, be sure to visit the store next time you are in Vancouver.

See where the Tiffany & Co. flagship store is located:


Tiffany & Co. Flagship
723 Burrard St,
Vancouver, BC
V6Z 2P1

Learn more through Tiffany & Co.'s Canadian website
See more LXRY here:
Want to help improve LXRY?
Give your feedback here.
---
---
---